Are you called to the service of helping others live their best life?

Have you ever considered becoming a Life Excellence Coach?

So you still have much of your own work to do but feel the call to help heal and guide the lives of others to their own personal Life-Mastery?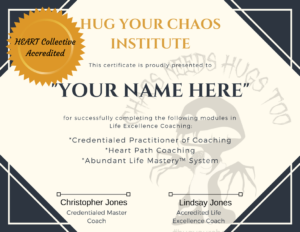 The reality is, there are SO many Coaches on the market that are doing little more than spreading more DIS-EASE because they have yet to look into and address their own shadows.
There is absolutely no authenticity in this!
At Hug Your Chaos Coaching, we see a world full of Coach Training Programs that have wonderful accreditations attached to them, yet they still lack the one thing that matters most…
Having Coach Trainees do their OWN healing work prior to unleashing them on others.
Here's the reality check for you…
Anyone can write a course teaching someone else how to be a Life Coach. It's easy enough to get the course credentialed too. Follow some simple guidelines and make the necessary tweaks and there you go. An accredited program that trains people to spread DIS-EASE!
THIS IS PURE MADNESS
and it is time it stopped.
Hug Your Chaos Coaching is now offering a fully accredited 12 month Coach Training Program with a strong focus on the AUTHENTICITY that is created by doing your own work first.
You may have heard of the Powerful Abundant Life Mastery™ Program. THE program that guides you deep into the shadows within your own self, address the blocks so as to release them and then safely guide you back out to a life of absolute BRILLIANCE!
We at HYC Coaching have built our Coach Training Program around a very similar model, and as such, you will spend the first 3-months learning all about shadow work by facilitating it on the hardest person you will ever encounter…
YOURSELF!
All HYC Training Programs are fully Accredited under the HEART Coaching Collective (HCC) and upon completion, you will be Heart Coaching Collective Certified.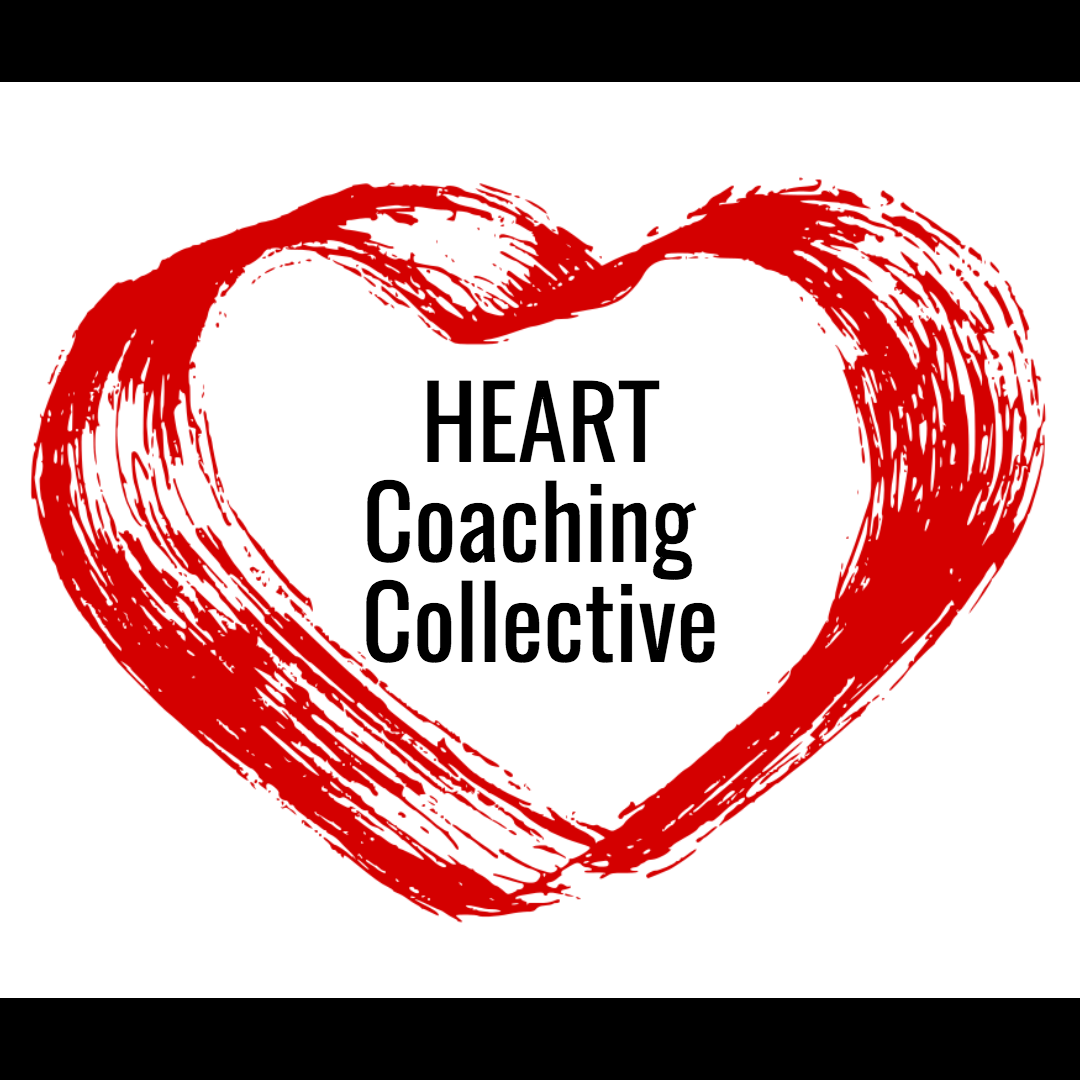 Title of the program
HYC Life Excellence Accredited Coach Training
General program vision and goals
To create a standard of Life Coach Training where Trainee Coaches are taught how to handle their own darkness and lay to rest their own issues prior to helping others do the same.
List of classes/modules/parts

Weeks 1-12: Abundant Life Mastery™ Program (For personal Self-Mastery)
Week 13: Fundamentals of Life Coaching 1 (Overview, Introduction, Role of a Coach, What a Coach is, What a Coach is not, Difference between Coaching, Therapy, and Psychology)
Week 14: Fundamentals of Life Coaching 2 (Ethics, Boundaries, Communication, The importance of doing your own work)
Week 15: Logistics of Coaching Online (Admin, Emails and Follow-ups, Programs vs 1 on 1 Coaching)
Week 16: Basic Life Coaching Skills (Intro to NLP, Emotional Anchors, Pillars of Happiness, Power of Suggestion)
Week 17: Processes of Life Coaching (Assessing Client Questions, The Breakthrough Call, The Jumpstart Call)
Week 18: Intermediate Life Coaching Skills (The First Session, Holding up the mirror, Accountability)
Week 19: Basic Business Skills For Coaching (Website, Marketing, Social Media)
Week 20: Advanced Life Coaching Skills (Advanced Active Listening, Projection, Blame, Mirroring)
Week 21: ASSESSMENT
Week 22: Intermediate Business Skills For Coaching (Facebook Ads)
Week 23: Introduction to Intuitive Guiding (Introduction to Altered States)
Week 24: Intuitive Guiding – Regression (Timeline Regression Techniques, Ethics of Regression Work)
Week 25: Facilitating Abundant Life Mastery (Weeks 1 & 2)
Week 26: Facilitating Abundant Life Mastery (Weeks 3 & 4)
Week 27: Facilitating Abundant Life Mastery (Weeks 5 & 6)
Week 28: Facilitating Abundant Life Mastery (Weeks 7 & 8)
Week 29: Facilitating Abundant Life Mastery (Weeks 9 & 10)
Week 30: Facilitating Abundant Life Mastery (Weeks 11 & 12)
Week 31: Advanced Business Skills For Coaching (Building Funnels, 4-Step Business Model, Developing a Coaching Program)
Week 32: Self Review
Week 33: ASSESSMENT
Week 34: Practical (Listening to Live Calls)
Week 35: Practical (Listening to Live Calls)
Week 36: Practical (Leading Live Calls)
Week 37: Practical (Leading Live Calls)
Week 38: Final Assessment
Weeks 39-51: Paid Internship (Facilitating Abundant Life Mastery™ fort up to 5 Clients)
Week 52: Graduation
Number of student contact hours included in the program
110 Direct Contact Hours
Learning goals
Learning Goals are to train people to become Life Excellence Coaches in the HYC Coaching Systems for Life-Mastery. This is a process that takes place over 12 months through a combination of having the Trainee do their own shadow work under the guidance of Credentialed Master Coaches and Shadow Work Specialists, as well as then learning to guide others through the same process.
Coaching philosophy/model/approach
The philosophy that we use in our approach to Coaching here at HYC is simple: If one has not or can not face their own internal barriers, blocks, and fear, then they have absolutely no place as a Coach in helping others to do the same. This outdated model is how DIS-EASE is spread within the Coaching industry and it needs to stop.
Authenticity and transparency is the model on which we conduct ourselves. Without both of these things, there is no Coaching Industry, to begin with. Merely sick people trying to help others for money!
Listing of lead instructors
Christopher Jones
Diploma of Management – Brisbane TAFE College
Certificate 4 Workplace Trainer & Assessor – Brisbane TAFE College
Credentialed Master Practitioner of Life Coaching – Australian Coaching Institute (International Coach Guild)
Credentialed Practitioner of Neuro-Linguistic Programming – Australian Coaching Institute
Certified Coach Trainer & Course Developer – Australian Coaching Institute
Lindsay Carricarte-Jones
Accredited Practitioner of Life Coaching
Dates and locations of when and where the program is to be delivered
All courses are conducted online and start dates are flexible to the student
Language(s) that are used in program delivery
English (US)
How the program is delivered (e.g. face-to-face, webinar, telephonic, combination)
Online modules are facilitated via the HYC Institute.
Assessments are all submitted via email, graded and returned to the Trainee.
Weekly classroom sessions are run via Zoom online video conferencing as are private sessions with Coach Trainees
Requirements students must meet to enter the program
Any existing Abundant Life Mastery™ students can enter the program at week 13.
Otherwise, there is a pre-screening of students to assess the suitability of working with the HYC Coaching systems.